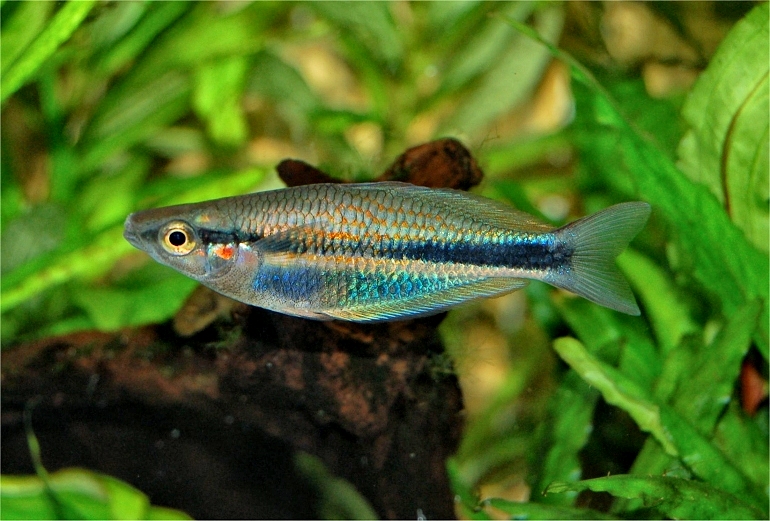 Melanotaenia goldiei [Loloipa River] - photo© Christophe Mailliet
---
(Macleay, 1883)
Goldie River Rainbowfish

Species Summary
Melanotaenia goldiei have a distinctive coppery coloured sheen on the upper half of the body with a creamy white colour on the lower half. The mid-lateral stripe is discontinuous, dark blue or blackish, and about 2 scale rows wide. There is a narrow copper or orange-coloured stripe between each scale row on the upper half of the body. Males may reach a maximum size of 10 cm, but are usually less than 8 cm; females are similarly coloured as the males, but are usually smaller.

Rainbowfishes from the "Goldiei" species group are one of the most widely distributed rainbowfishes in New Guinea and Australia. Recent genetic studies (Unmack et al. 2013) indicate that M. goldiei as presently recognised is divisible into several species. The various members of this complex are very similar and difficult to separate using traditional taxonomic characters as nearly all included species exhibit broadly overlapping counts and measurements. Aside from genetic differences, colour pattern and their geographically distribution are the best means of separating the various species. The challenge with the "Goldiei" species group is that while they all have strong genetic differences and some clear colouration differences, morphological and meristic differences are minimal in most cases.


Distribution & Habitat
Melanotaenia goldiei were initially collected from the Goldie River, a major tributary of the Laloki River in southern New Guinea, near Port Moresby in the 1880's. The Laloki River and its major tributaries, the Brown and Goldie Rivers, arise in the lush foothills of the Owen Stanley Ranges in the Central District of Papua New Guinea. Melanotaenia goldiei is one of the most widely distributed rainbowfishes in southern New Guinea, ranging from Lake Yamur (West Papua) eastward to the Port Moresby region. They are very abundant and one of the most common rainbowfishes throughout the region. Other river systems where M. goldiei has been collected include the Fly, Kemp Welsh, Lakekamu, Lorentz, Ok Tedi, Oriomo and Sapoi Rivers as well as the Timika region in West Papua. In 2005, M. goldiei were collected in 17 sites in the Fly River catchment system including the Elevala River, Ok Tedi, upper Fly River, Ok Mart and Ok Menga. In 2008 they were collected from the Baia River, a tributary of the Strickland River.

Melanotaenia goldiei are found in a wide ranges of habitats, including swamps, backwaters, small creeks, and large rivers. They are most abundant in deep pools behind fallen logs or buttress roots of large trees, where they form loose midwater aggregation. They occur most frequently around sub-surface vegetation, submerged logs, or branches in small tributary streams. Typical habitat consists of small, clear; slow-flowing creeks in closed canopy forest over relatively flat terrain. These creeks typically have mud or gravel bottoms and littered with leaves and log debris. Their natural environment is subjected to seasonal variations with water temperature, pH, and hardness levels varying considerably, and they adapt to the particular water conditions and the seasonal changes when they occur. They have been found in company with Melanotaenia ogilbyi, Melanotaenia papuae, Melanotaenia rubrostriata and Melanotaenia sylvatica. Temperature and pH recorded 24.6 - 33.0°C; pH 7.0 - 7.8.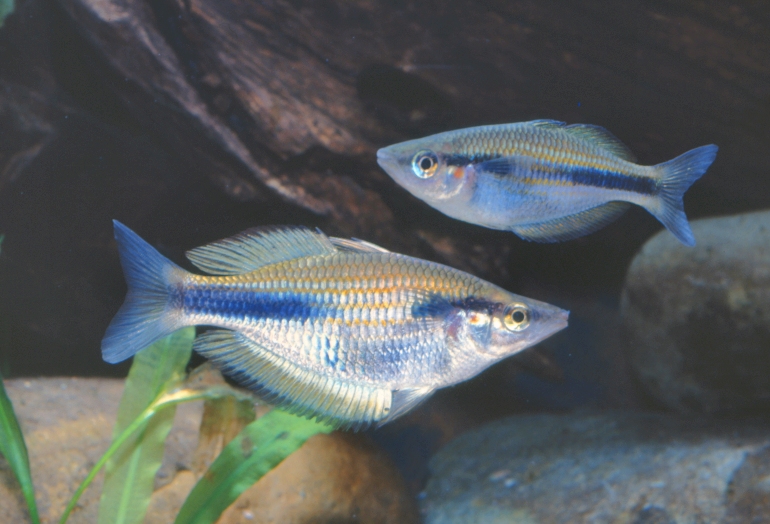 Melanotaenia goldiei (Laloki River) - photo© Gunther Schmida

Melanotaenia goldiei are carnivorous, feeding predominantly on a wide variety of small invertebrates taken mainly from mid-water or from the water surface. Their natural diet appears similar to observations on other rainbowfish species and exhibit little feeding specialisation. Aquatic insect larvae comprise mainly Diptera and Coleoptera and insects from terrestrial sources are mainly Formicoidea (ants), Diptera (flies) and Coleoptera (beetles). Other food items include arachnids, small planospiral gastropods and filamentous algae. Comparisons between the wet and dry seasons of the percentage composition of stomach contents are significantly different for each food category. However, seasonal differences in the composition of stomach contents are not marked. The percentage of insect larvae and insects from terrestrial sources increase slightly in the wet season, with reductions in the percentage of these and slight increases in the percentage of crustaceans, detritus and 'other material' in the dry season.

Remarks
Melanotaenia goldiei was one of the first New Guinea rainbowfishes to enter the aquarium hobby. They were being maintained in the Australian hobby as early as 1958 and perhaps even earlier. Just how many separate collections have occurred over the years is not known, but I know of at least 3 during the early 1970's. What eventually happened to the fish from these importations has been lost in the pages of aquarium history. One collection that has been documented was made by Gerald Allen in 1978. However, as the number of new species arrived from New Guinea, Melanotaenia goldiei fell out of favour with hobbyists and most of the captive stock disappeared. Another collection was made by Heiko Bleher around the late 1980s, and these were introduced to the European hobby. They are known as the "Tapini" variety. These were collected from the Loloipa River, which is an upper tributary of the Angabanga River that flows to the sea near Bereina, Papua New Guinea. In 1994 stock of recently wild caught specimens arrived in Australia and once more they were being eagerly sought after by the rainbowfish faithful. However, despite this rather long association with the aquarium hobby, not a great deal of information about them has been published in the aquarium literature.

Literature
Allen G.R. (1991) Field guide to the freshwater fishes of New Guinea. Christensen Research Institute, Madang, Papua New Guinea.
Kailola P.J. (1987) The fishes of Papua New Guinea. A revised and annotated checklist. Vol. 1. Myxinidae to Synbranchidae. Research Bulletin No. 41. Department of Fisheries and Marine Resources, Port Moresby, Papua New Guinea.
Macleay W. (1883) Contribution to a knowledge of the fishes of New Guinea, No. 4. Proceedings of the Linnean Society of New South Wales 8 (2): 252-280.
Nichols J.T. & H.C. Raven (1934) Two new fresh-water fishes (Percesoces) from New Guinea. American Museum Novitates, No. 755: 1-4.
Unmack P.J., G.R. Allen and J.B. Johnson (2013) Phylogeny and biogeography of rainbowfishes (Melanotaeniidae) from Australia and New Guinea. Molecular Phylogenetics and Evolution 67 (1): 15-27.


Adrian R. Tappin
Updated January, 2016

---